Emergency Heating Oil Delivery in Bronx for all residential homes, businesses and apartment buildings – all with no contract required! 24 Hour Oil Delivery Service

Reliable Service – Fast Response – Same-Day Oil Delivery
Always delivering high quality #2 and #4 oil
CALL NOW FOR IMMEDIATE HELP!
Supreme Fuel Oil is a full service fuel delivery company.  We have helped our customers all over Bedford Park, Belmont (Arthur Avenue), Fordham, Fordham Heights, Kingsbridge, Kingsbridge Heights, Van Cortland Village, Marble Hill, Norwood (also known as Bainbridge), Riverdale, Central Riverdale, Hudson Hill, North Riverdale, University Heights Woodlawn and other Bronx NY neighbourhoods our oil delivery service area for over 35 years. With a variety of payment and delivery options available, we can customize your account to meet any needs.  Our friendly dispatchers are on-call 24/7, working to get your heating oil delivered as fast as possible. Homes and businesses can count on Supreme Fuel Oil for all of their heating and cooling needs.
Stay warm with our fast heating oil delivery in Bronx
Here at Supreme Oil, we can supply you with home heating oil quickly, efficiently and at the best possible price.
Why choose Supreme Fuel Oil?
Here at Supreme Fuel Oil, most of our deliveries are successfully made within 24 hours
SAME DAY EMERGENCY OIL DELIVERY
Supreme Fuel Oil can come to your rescue with our 24 hour delivery service
LOW PRICES & UNBEATABLE SERVICE
Our aim is to buy fuel at the lowest price possible and pass the savings on to you
DEDICATED ACCOUNT MANAGERS
We will assign you an account manager who will be your point of contact from day one
Check local heating oil prices and order from the comfort of your home.
Benefit from our quick heating oil delivery from a local home heating Oil Company.
Trust our reliable emergency home heating oil delivery service from reputable local dealers.

How It Works
With Supreme Fuel Oil, getting heating oil delivered to your home is as easy as checking your email. With our suitable online ordering service, you can get heating oil prices and program a delivery at any time, from the ease of your home. Need heating oil delivered faster? Emergency service in 24 hours or less is available.
We offer all customers the opportunity to pay their bill online ahead of time. At Supreme Fuel Oil, you only pay for the fuel of your tank size. But, If you end up ordering more oil than needed, we'll refund the difference to your credit card automatically.
Our Low Heating Oil Price Promise
Convenience and great service are important, but, as a home or business owner who relies on fuel oil to heat their property, it's all about the bottom line. We've invested heavily in the infrastructure necessary to keep costs as low as possible. Here's how we do it:
With our supreme purchasing power, which allows us to purchase oil when the prices are at their seasonal lows and forward the savings on to you
With our wide-ranging delivery network, which enable us to get your order to you in a fast and lucrative manner
Take a look at our existing prices online and see how much you can save by choosing Supreme Fuel Oil as your high-class heating oil supplier.
Preventive Maintenance
Customers can add the option of burner and/or Air Conditioning preventive maintenance to their order. A qualified technician will be sent to perform preventive maintenance that keeps your equipment running at its best. (Note: Preventive Maintenance for burner is also known as a "cleaning" or annual maintenance.)
Emergency Oil Delivery Service
Getting low on fuel? We'll deliver your order in 24 hours or less. To fill your fuel tank before it runs out saves you a lot of stress and can possibly prevent damage to your burner system. Supreme Fuel Oil can provide emergency delivery service throughout our area. Contact our customer care team directly for more information.
Prime and Restart
When you're out of fuel you want to get your system back up and running. You may need a prime and restart to do this. Customers have the option of adding this service to their order. This service is only provided by the driver at the time of delivery (Available in most areas).
---
SEE WHAT OUR CUSTOMERS HAVE TO SAY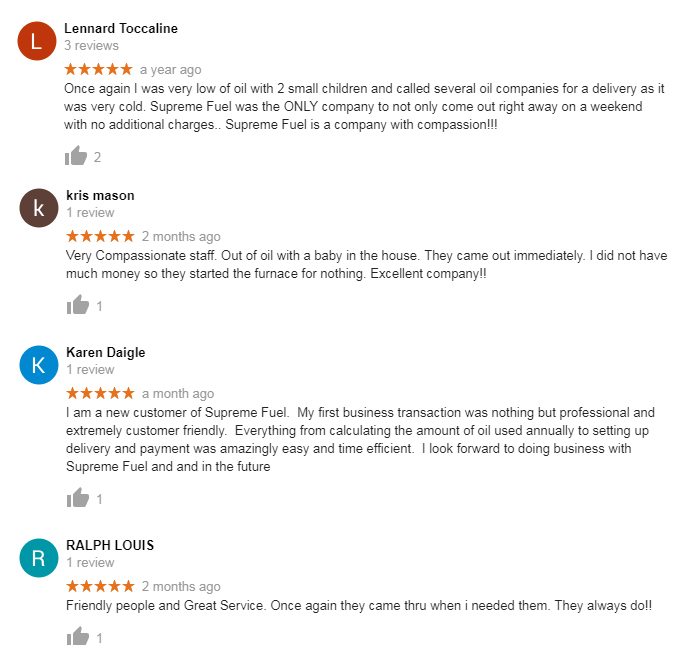 ---
We provide heating oil deliveries on all holidays, WEEKENDS AND NIGHTS, including:
New Year's Day
Martin Luther King, Jr. Day
George Washington's Birthday
Independence Day
Labor Day
Columbus Day
Veterans Day
Thanksgiving Day
Christmas Day
Memorial Day